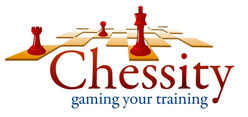 World Chess Tactics Battle

Nov 16, 2013

Can you be the next World Chess Tactics battle Champ tomorrow? The Battle starts at November 17, 2013 at 20:00 CET (18:00 GMT). Win prizes!
NEW chess coach program

Oct 17, 2013

Chessity's intuitive programme for coaches is designed to make helping students easy.
Benefits of online learning

Oct 15, 2013

Chessity offers you a variety of quick ways to improve your chess. With today's release you will experience the benefits of Chessity's learning strategies,which are designed for rapid chess improvement on every age.