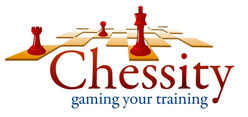 Carlsen-Anand the preview

Nov 7, 2014

This Saturday the World Championship Match starts in Sochi. Most chess fans think that Magnus Carlsen will keep his title, but what about the experts?
Chess is Child's play

Sep 12, 2014

Finally, 'gaming your training' at Chessity.com is now easily accessible for our little players!
Friday Column - take your chances
yodhaa, Dec 5, 2014

Hello everyone! This is IM Srinath Narayanan here, with another interesting Friday column!The previous week, we examined examples when the lower rated players got opportunities, but failed to utilise ...

» read all