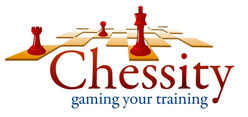 Chess is Child's play

Sep 12, 2014

Finally, 'gaming your training' at Chessity.com is now easily accessible for our little players!
World Chess Tactics Battle

May 27, 2014

How good are your chess tactics during time pressure? Be active June 1st at 20:00 (18:00 GMT) and you know it in 30 minutes!
A Checkmate for ADHD
Laimonas, Oct 22, 2014

Playing Chess is very beneficial. In fact, Chess has been used as a brain-developing game for ages, and due to it's distinguished history is regarded as the king of all games. Taking into account the ...

» read all