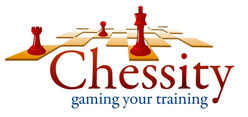 World Chess Tactics Battle

May 27, 2014

How good are your chess tactics during time pressure? Be active June 1st at 20:00 (18:00 GMT) and you know it in 30 minutes!
Learn with mini-games

May 15, 2014

Does learning chess seem boring to you? What if I told you that you could learn chess by playing, without having to memorize endless passages of game theory?
What's your plan for Sunday?
arunjchess, Jul 5, 2014

The coundown has begun! Chessity will be releasing its new game feature called "Arena" and make it open for ALL Chessity users this Sunday at 19:00 CET. Its a double event day! Make sure you are pr...

» read all